A timeless journey
Cradle of Life
Coffee & Tea making facilities
About Us
Cradle of Life – An oasis of scenic beauty and tranquility in Badplaas, Mpumalanga
Take an old farmer's co-op, set amongst disused quarries, in the most stunning patch of untouched wilderness. Establish that this is in an area which is recognised as home to the oldest well preserved sequence of volcanic and sedimentary rocks on Earth and then raze the building to the ground! Now gather together some of the most creative minds around, add some eminent historians, geologists and people with a passion for conservation and you have a recipe for a wonderfully exciting development! The Cradle of Life in Badplaas. 
The Cradle of Life is just that, with the word Cradle signifying the early beginnings of life on earth. Records of Earth's earliest life forms, including microfossils, stromatolites, biomats and other organically derived material have been discovered in the adjacent Barberton mountains which have been dated at some 3600 million years of age.
Life is very much part and parcel of the environment here, not only ancient, but modern too. The most impressive array of earthly animal species, exotic and indigenous, have been gathered together at the Cradle of Life. These include white lions, tigers, jaguars, pumas, cheetahs, hyenas and more. There is also an absolute abundance of bird life including raptors and LBJ's for the birding enthusiast. View the latest list of birds here
Our clean restrooms, and well stocked convenience store, provide a welcome break on a long journey and our spacious restaurant will provide a range of delicious meals for travellers wanting to take a longer break on their journey.
We also offer luxurious accommodation for unforgettable breakaways.
Standard Chalet
Our standard chalets sleeps 4 guests, in 2 bedrooms, has a shared bathroom (shower, no bath) & a small kitchenette. The kitchenette comprises of a fridge, toaster, microwave, basic cutlery and crockery & coffee making facilities. No lounge area and TV. Please note, this unit is serviced daily. Braai facilities available.
Luxury Chalet
Our luxury chalets sleeps 4 guests, in 2 bedrooms, has a lounge with a TV, 2 bathrooms and a kitchen. The kitchen comprises of a fridge, toaster, microwave, basic cutlery & crockery & coffee making facilities. Please note, this unit is serviced daily. A sleeper couch can be arranged in order to accommodate a 5th guest. Braai facilities available.
Honeymoon Chalet
Our honeymoon chalet sleeps 2 guests in 1 bedroom. It has a lounge with TV and a kitchen with basic cutlery & crockery. The kitchen comprises of a fridge, toaster, microwave & coffee making facilities. This unit also has an area where the bride and her bridal party can get ready for her big day. It does not only have a bathroom with his & her basins and shower, but also a private outdoor his & her shower in an enclosed small garden. Unit serviced daily.
It's a great place, surely I will be back!
Lucia Mahlangu
As a professional wedding photographer, I have covered many great venues, I must say so far Cradle of Life is one of the best. It not only offers great value for money, but has fantastic prime grassland for photos, great reception options and stunning views for photography! Arno Pietersen - ARL Photography
We took the 2 hour drive that has the feeding of the predators as a feature. Sizwe our guide was very knowledgeable. A good afternoon spent with the kids. Pauline D
I went with my family to Cradle of Life. We booked a morning game-drive as well as feeding the predators, which was really nice. The animals looked well cared for and the drive was relaxing. It was a really nice experience.We decided to go earlier so we can grab breakfast which was also really nice. The staff was very friendly, the food was delicious and overall we had a good experience.
Jaco Meyer
What you Get
Amenities, Services, & Travel Guide
Convenience Store & Curio Shop
Restaurant & Bar
Our Peacock Restaurant serves some mouthwatering dishes, which are sure to satisfy your tast buds. Whether you prefer a full breakfust or light lunch, the choice is your's. Our menu provides different options and our prices are not too shabby either. We also offer bar facilities as we are a fully licenced restaurant.
Operating times:
Sunday – Tuesday: 8h00 – 16h00
Wednesdays – Saturdays: 8h00 – 20h00
Convenience Store & Curio Shop
Just passing through Badplaas? Visit our convenience store & curio shop. Stocked with cold drinks, juice, chocholates & other snacks, worth the visit. We also sell souveneirs & gifts. Staying over and forgot to buy charcoal & blitz? Don't despair, our shop stocks that too for our guests convenience.
Operating Times:
Sunday – Tuesday: 8h00 – 16h00
Wednesday – Saturday: 8h00 – 20h00
Game Drives
If you want a memorable experience, book a game drive at Cradle of Life. Visit our
activities & facilities
page for more info.
Rock Pool
Our rock pool is for the exclusive use of our guests staying overnight. Please note that we offer swimming towels, which are available to our guests at a small refundable deposit. Kindly enquire at our reception.
Hiking Trail
Our hiking trail is marked in white with an "OX" along the way as direction markers. It starts near the reception area and leads right into the game reserve, up the mountain and back to the reception area again. This trail is an estimated 5 km trail. Kindly enquire at reception.
Costs:
Adults: R50
Children (aged 6 – 12): R30
Day Trips
El Dorain Horse Riding Trail:
This trial is situated on Mpumalanga escarpment between Carolina and Badplaas. The horse trail covers 20 000 hectares of mountain and is ideal for beginners as well as advanced riders. There is a waterfall on the trail, rivers and natural rock pools. Riders will also see a variety of wildlife and bird life.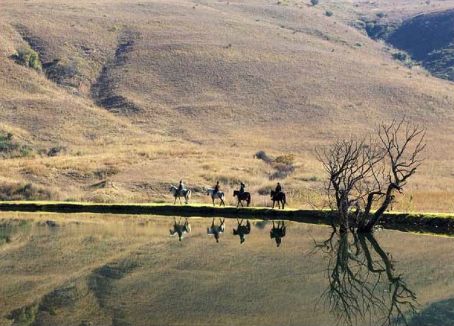 Baberton Steam Locomotive:
Take a slow stroll along the Heritage Walk from Barberton Museum to see a relic from yesteryear. Visit http://www.barberton​.co.za for more info.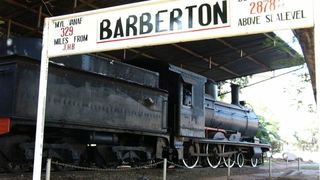 Gold Panning Tours & Mining Tours into Bray's Golden Quarry:
Gold panning may have its roots firmly in the past and can often be perceived to be dominantly in the long-gone era in our history but in South Africa, gold panning has however got both feet firmly in the future and has captured the imagination and interest of young and old.
Edwin Bray wondered around in South Africa many years, seeking its rich fortunes which lead him to the greatist discovery of all. A hill so rich in gold that it was claimed to be one of the Wonders of the World at the time. This mine is now open for guided tours.
For more details, visit www.dustytrack.co.za or contact Wynand on 072 668 4063.
Sudwala Dinosaur Park:
The Dinosaur Park is situated next to the Sudwala Caves, 30 minutes drive from Nelspruit, Mpumalanga, South Africa.
The museum displays life size models of pre-historic animals, ranging from amphibious reptiles, anicient reptiles, dinosaurs, pre-historic mammals, pre-historic man and more.
For more info visit https://www.dinosaurpark.co.za
Visit BADplaas in Style
Luxurious Chalets
Beauty as far as the eye can see